FIGHT: YEC 2023
March 3 @ 6:30 pm

-

March 4 @ 12:30 pm

EST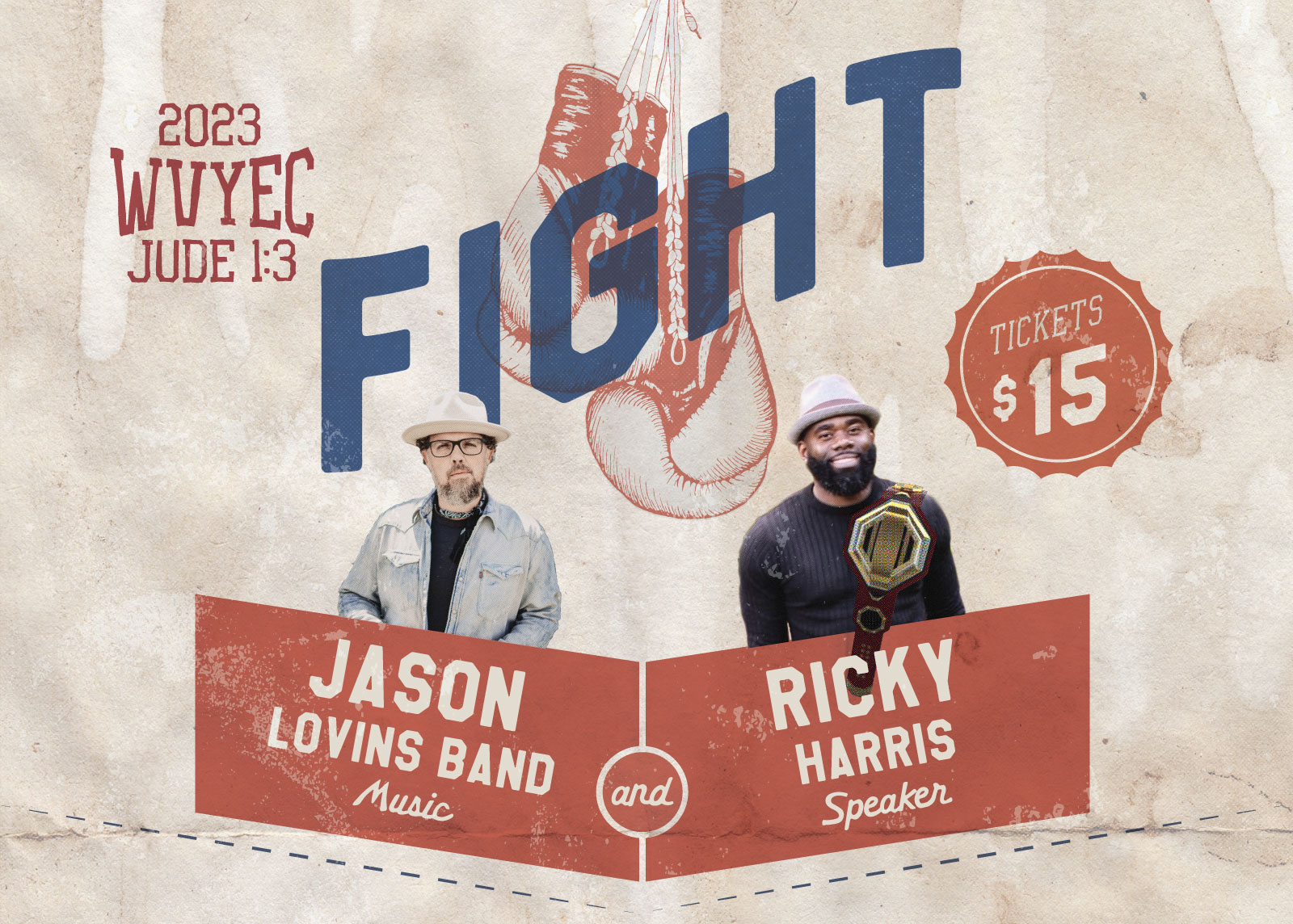 YEC has grown into one of the largest student events in WV.

"Dear friends, I've dropped everything to write you about this life of salvation that we have in common. I have to write insisting— begging!—that you fight with everything you have in you for this faith entrusted to us as a gift to guard and cherish." (Jude 1:3)

THEME: FIGHT
In a culture that bombards students with ideas contrary to the Word of God, and where temptation is increasingly accessible and anonymous, students must learn to hold fast to the good news of the gospel, live distinct, holy lives, and fight for the faith—for themselves and others.
Here's the best part; the battle is the Lord's (1 Samuel 17:47). He fights for us and even defeated death. God's Word prepares us to stand up to every challenge we face with courage so we can point others to Jesus in grace, love, and truth.
This fight is as old as Genesis, but the battle is already won. Which corner will you choose?

2023 LINEUP
MUSIC: Jason Lovins Band – Worship leader based out of Ashland, KY – it's not their first WVYEC!
SPEAKER: Ricky Harris – Pastor of congregational care, Hope Church, Las Vegas, NV
COMEDIAN: Clayburn Cox – High school teacher by day and a stand up comedian by night
NOTE:
Group check in opens at 5:30 p.m. on Friday, March 4 and YEC will kick off at 6:45 p.m. 

ABOUT
Sponsored by the West Virginia Convention of Southern Baptists, the Youth Evangelism Conference (YEC) is open to youth groups from churches of multiple denominations across our state.
This is an opportunity for 6-12th grade students to get away from life's distractions and focus their hearts on Christ through gospel-centered experiences that are fun and relational, with engaging worship and sound biblical teaching.
We make much of Jesus at YEC and commission students throughout West Virginia to boldly live out the gospel as leaders and culture creators. We have seen many lives transformed for eternity and into fully devoted followers of Christ.
*If you have any questions, please contact Tim Turner, tim@wvcsb.org.