PRINCETON, W.Va. — Messengers at the 52nd annual meeting of the West Virginia Convention of Southern Baptists (WVCSB) unanimously approved a new sexual abuse policy,
a culmination of a year long process to examine its policies and procedures regarding sexual misconduct motioned by messengers at the 2021 annual meeting.
"This policy is a work of love, mercy, and compassion," said Rev. Joey Giles, chair of the WVCSB Sexual Abuse Task Force and pastor of Berkeley Baptist Church in Berkeley Springs. While there have been no reports of sexual abuse in any WVCSB churches to date, Giles shared the desire to be proactive rather than reactive. "We do not tolerate sexual abuse and we want to demonstrate to victims, perpetrators, and the general public that we are committed to stomping out this plague in our churches and in society!"
A total of 196 messengers and 50 guests attended the Nov. 3-4 meeting at Immanuel Baptist Church in Princeton, marking the highest messenger registration in 16 years.
In and Through
The annual meeting and pastors' conference shared the theme, "IN + THROUGH," a new three-year vision that emphasizes the WVCSB mission of "strengthening and sending churches to make Jesus known in and through West Virginia."
Announcing the three-year vision, executive director Eric W. Ramsey told messengers the purpose is "to increase cooperation among our churches, and attempt great things for God as we transition from a mission field to a family on mission." Ramsey added, "Everything we do will be evaluated through the lens of making Jesus known in and through West Virginia while building cooperation and family."
Dr. Paul Chitwood, IMB President, spoke at the WVCSB Pastors' Conference and Annual Meeting and affirmed WVCSB's Great Commission-centered vision. "Urgency should not be lost on the church today," he said, charging, "Until the bride of Christ is ready, the work of Southern Baptists in and through WV is not completed."
Other annual meeting and pastors' conference speakers included Thomas Kinchen, president of The Baptist College of Florida and former WVCSB Executive Director; Kevin Smith, teaching pastor of Family Church, West Palm Beach, Fla.; Randy Spurgeon, pastor of Ansted Baptist Church, Ansted, W.Va.; and Hank Watson, IMB Missionary. Worship was led by Chosen Road.
Prior to the annual meeting, Dianne Carney of North Charleston Baptist Church in Charleston and Cassie Eubank of Witcher Baptist Church in Belle spoke at the Ministers' Wives Gathering. Russell and Kristi Johnson led worship during the gathering. 
The West Virginia Baptist Foundation revealed new branding and a renewed focus at a banquet sponsored by the Southern Baptist Foundation. Dr. Thomas Kinchen was the keynote speaker. The West Virginia Baptist Foundation supports the cooperative mission and cause of WVCSB churches, associations, and members of WVCSB churches.
Business
Messengers approved a 2023 budget totaling $1,454,672, representing a decrease of nine percent from the 2022 budget. The new budget allocates a total of 42 percent to the Southern Baptist Convention's Cooperative Program. Anticipated funding sources include $110,000 from NAMB.
Messengers also approved for affiliation CrossPointe Family Church, Teays Valley, Pastor Jonathan White; Life Spring Church, Cool Ridge, Pastor Brian Harmon; Living Water Baptist Church, Sardis, Ohio, Pastor James Ng; and Redemption Church, Beckley, Pastor Noah Toney. 
In addition, an amendment to the state convention's constitution and bylaws outlining the process for the search and selection of an executive director was approved. A resolution was adopted to thank the annual meeting host church, Immanuel Baptist Church.
Elected officers are president Aaron Sligar, pastor of Living River Chapel in Sutton; first vice president Jason Spade, pastor of First Baptist Princeton in Princeton; second vice president Ryan Navy, pastor of River Valley Church in Huntington; and recording secretary Andrew Gordon, associate pastor of Winfield Baptist Church in Winfield.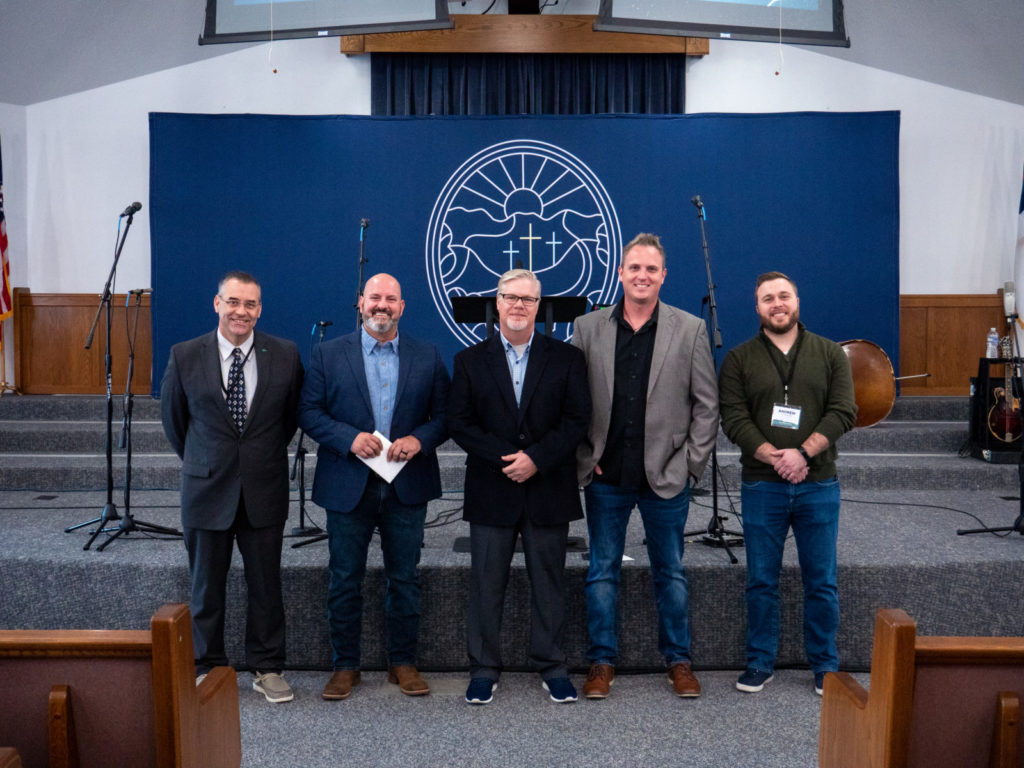 Join us next year.
The WVCSB 2023 annual meeting will be Nov. 2-3 at Chief Logan State Park Lodge in Logan, W.Va. Bart Barber, current SBC president, is scheduled to speak.
Downloads/Sermons
2022 Book of Reports
2023 Budget Description Booklet
Proposed Sexual Abuse Policy [DRAFT]
(Sermon downloads are currently unavailable due to a hard drive error. As soon as the files are recovered, they will be posted here. Check back.)